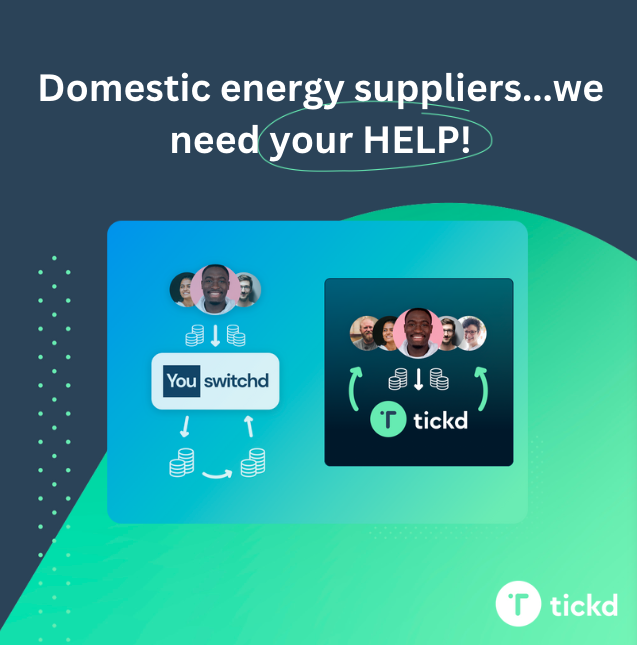 Our focus since launch has always been solving the problems associated with small business energy switching. After lots of demand and incoming enquiries we have now built all of the technology for a domestic energy switching platform https://domestic.tickd.co.uk/. In true Tickd style, we intend to do things differently, correctly and transparently but we're not finding it as easy as we expected. So far this domestic energy switching platform has been a bit of a 'damp squib.' This blog summarises why…
Market context
At some point, we expect there will be the biggest domestic switching frenzy of all time. After the turbulence in the energy market in the past 18 months, the vast majority of households in the UK will be out of contract and on the Government's capped price. There will then be a significant incentive for households to switch to a fixed rate tariff as it will be significantly cheaper than the capped price, which is calculated based on historic or 'backwards looking data'
Price comparison websites
When consumers switch their household energy on traditional price comparison websites, there is an 'invisible' payment paid by the energy suppliers to the price comparison website. This is typically between £30 and £50 per fuel (so £60 – £100 for a typical household with gas and electricity).
Tickd model
Using everything we have learnt with our white label small business switching journey, Tickd can set up a white label domestic switching journey FOR FREE in about 20 mins.
We intend to give this switching journey to 'good causes'. Be that a charity, a local community group or a junior football team. If you switch your energy on this site, instead of giving money to large corporate price comparison websites, we will give half of the payment (£30 for a dual fuel switch) to the good cause.
A junior football club could use this to pay for their kit, a village hall could use this revenue to keep the lights on for the year, a scout group could use this to fund a trip. It's entirely up to you.
The challenge we face?
On the surface, you'd expect us to be able to onboard energy suppliers easily. Our pitch is simple, instead of giving money to large corporates, use our energy supplier platform and that same money instead goes back to the local community.
Conversations with suppliers have been extremely positive, they love the idea of doing good with the same money that they would have spent anyway but despite banging on many doors, we only have one energy supplier signed up. (Kudos to Rebel Energy for being so forward thinking!) However, a switching platform with one supplier is much less powerful than a switching platform with 3 or 4.
So why haven't we got more suppliers on board yet?
Corporate red tape. The process to onboard a new partner for energy suppliers is way too complicated and the great people within the organisations just don't seem to be able to navigate the various hurdles. Momentum gets lost and the potential for a partnership fades away.
Some energy suppliers will only entertain working with us when we are doing thousands of switches. This is a 'chicken and egg' situation, we will never do thousands of switches without a good panel of suppliers.
Our ask…
We've 'earned our stripes' by delivering thousands of SME energy switches since our inception in 2020. We're trying to do the right thing with an innovative model that gives back to the local community. Domestic energy suppliers… get in touch… we'll move pillar and post to jump through as many hoops as necessary to work with you! https://www.tickd.co.uk/arrange-a-demo/