Energy suppliers
A Simple, Automated Energy Supplier Platform.
Trusted by Suppliers Across the UK
£2 million
Tickd's platform generated over £2 million worth of annual energy contracts each month.
91.23%
Of meters that switch on our platform go live on their requested start date.
100%
100% of quotes are pre-credit checked meaning suppliers NEVER present a quote to a business that doesn't fit their criteria.
Zero
Energy suppliers are taking FULL advantage of the risk based pricing capability that is built into the system. We challenge you to push boundaries and be cleverer with your credit criteria.
Smart Software For Energy Suppliers
As an energy supplier, you can work with Tickd in two ways.
1) Either join our elite energy supplier panel and we'll introduce new business free of any human intervention via our direct switching and sub broker network.
OR
2) Use Tickd's personalised journey to quote and onboard SME customers directly on your website. Provide a trustworthy, transparent, and fully integrated digital journey.
SME customers no longer have to be in limbo. With Tickd, these customers can be onboarded and served in a cost effective way, free of any human interaction.
Why Tickd?
Streamlined Energy Switching, Dragging Energy Suppliers Into the Digital Age.
Tickd is a seamless, future-thinking sign-up journey. We help you do more for your customers.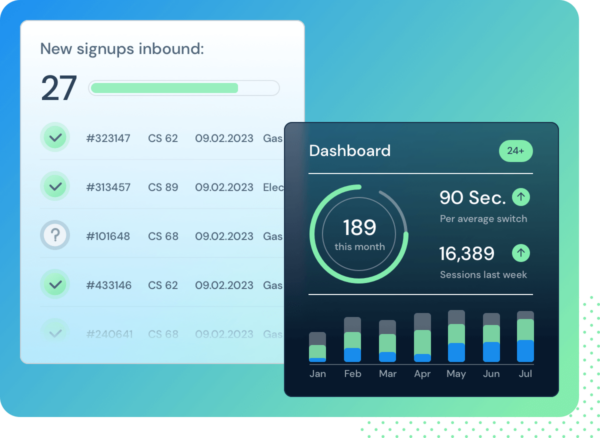 A Trusted Energy Supplier Platform
Tickd has been tried, tested and proven. Thousands of businesses have placed their trust by switching using our plarform. Be a part of the ultimate digital energy switching future.

Clever Customer Experience
As an energy supplier proving SME customers with a better sign-up experience is crucial. Our platform has smoothed out all of the inefficiencies traditionally experienced in business energy. No more chasing or waiting. Save time, save money. Ticked. Switched. Done.

Custom-Built for Your Business
Our energy supplier software was built with the end user in mind. We can customise the appearance of the platform, integrating it with your website seamlessly.

Peace of Mind, Saving Time
Our white-label platform integrated with Experian to ensure that quotes are only presented to customers who pass your credit criteria. Giving you peace of mind and saving you and them time.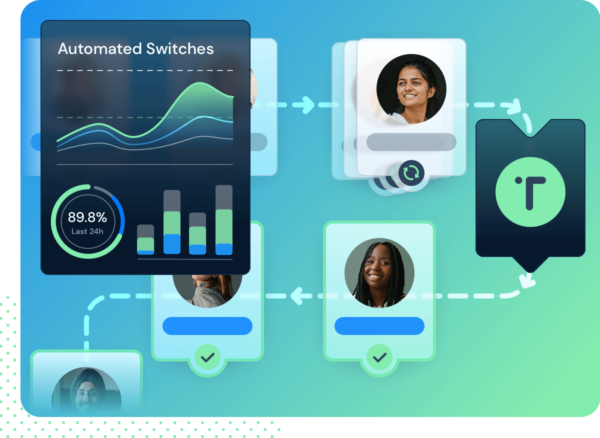 An End to Manual Switching.
It's time to rid yourself of costly manual processes. We want to partner with EVERY energy supplier by integrating with APIs. With our tech first approach, we're in the energy switching future. See you there!


suppliers
Energy Supplier FAQs
Want to know more about how we work with Energy Suppliers? Check out our FAQs. Click on each question below to find the answers that you need. Discover more, from bulk-upload functionality, to commission possibilities, and beyond.
What are the key features of your energy supplier platform?

Suppliers are able to onboard small business customers in a completely automated way. This means low value small business customers can be process more efficiently with a low cost of serve. Many suppliers also use the bulk quote part of our system to send out quotes for lower value renewal customers.
Does the energy supplier software integrate seamlessly with our existing systems?

Yes, we are already API integrated with many systems. More API integrations with energy suppliers is a strategic aim for Tickd and so our promise to all energy suppliers is that we will API integrate with your existing systems without any charge.
How does the supplier software facilitate communication and collaboration with energy brokers?

The interaction between energy suppliers and energy brokers has been way too manual and way too efficient for too long. Tickd help provide the 'technical glue' between energy brokers and suppliers to ensure this process is more efficient and automated.
Does your energy supplier platform offer detailed reporting insights?

Yes, our system provides a portal whereby you can view all the data that is flowing through the system in easily digestible reports.
How can suppliers work with Tickd?

Work with Tickd in two simple ways. Join our elite panel of suppliers and connect to new business. Our front-end journey can also sit seamlessly on your website.
Can we send out quotes in mass?

Yes! Within your admin portal you can generate bespoke quotes in mass.
Why is your commission model different to others in the market?

Our key values are transparency and simplicity. A flat fee makes life simple for all. Everybody knows how much we're making and means we have no bias to any particular supplier.
Why don't you work with more energy suppliers?

Tickd want to work with ALL energy suppliers. Our software requires suppliers to be API ready so that we can 'link up' with them. If that sounds like you, give us a shout!
What security measures are in place to protect sensitive supplier and customer data?

As a tech business data security is at the top of our priority list. All of our systems are based on AWS infrastructure and so follow their best practise for data security.
Does the software offer scalability to accommodate our business growth?

Yes, all of our system is hosted in the Cloud so that it automatically scales with your business needs. We work with partners who do a handful of switches a month to hundreds.
Pricing
Embrace the digital age. Choose your perfect package.
Switch Savvy
Bespoke Smart Software with Seamless Integration.
Arrange a Demo
All of the Switch Starter benefits – plus:

Ability to pull through any price book in the market

Bespoke configuration

Personalised domain so it fits seamlessly with your website

Emails received from a mailbox of your choice

Admin Portal to access all of your data

Control your credit preferences with a click of a button

Control of EAC limits
* £35 facilitation fee per contract
Switch Elite
The Ultimate Option to Be the Future Face of Energy.
Arrange a Demo
All of the Switch Savvy benefits – plus:

Tickd account manager

Integration with google Analytics.

Reporting.

Affiliate branding /Sub brokers.

SaaS Support and SLAs

Bespoke Emails.

Bespoke price books
* £25 facilitation fee per contract
Get Started Today!
Join the Suppliers Already In The Energy Switching Future
Arrange a Demo