Energy brokers
The Future Proof Energy Broker Platform
1000s
Tickd has facilitated thousands of switches, using our customisable white label platform.
1600+
There are over 1600 energy brokers registered in the UK. Make sure you are staying one step ahead.
21,000 kWh
21,000 kWh is the average Estimated Annual Consumption of switches on our site.
90 Secs
It takes only 90 seconds to complete our customer on-boarding journey.
Join Tickd's Smarter Energy Broker Software.
Times have moved on. Traditional call centres for energy brokers are becoming more difficult to make economical. New ways of acquiring and processing small business energy contracts need to be embraced.
Tickd's energy broker platform saves time and allows businesses to switch their energy with minimal human input.
Brokers can serve lower usage sites more efficiently and cost effectively. Make previously loss making business profitable at the same time as providing the customer with better prices and a better customer journey.
Let our technology do the legwork for you. It's as easy as Tickd. Switched. Done.
Why Tickd?
Fast, Easy and Transparent.
Tickd makes the switching journey for your SME customers easy and transparent meaning our partner brokers spend less time on low value deals.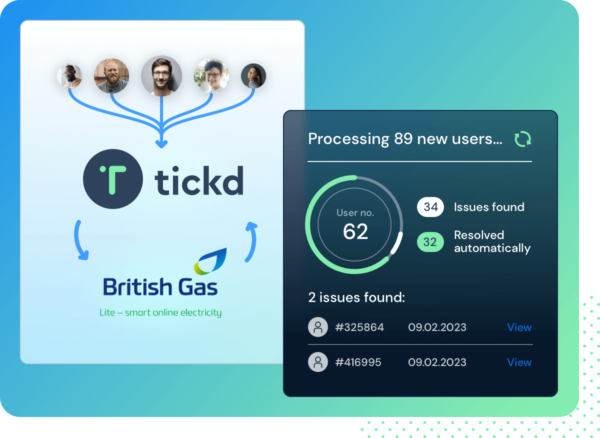 Streamlined, Zero Hassle Switching.
Our platform does all the heavy lifting – allowing you to make previously loss-making customers more efficient to process, so you can focus on where the real money is made.

A Proven Platform
Tickd has been tried, tested and proven. Thousands of energy consultants have placed their trust in us. Be a part of the ultimate digital energy switching future. Over 91% of energy switches go live at the first time of asking.

Clever Customer Experience
Provide your SME customers with a better sign-up experience. Our platform eradicates time consuming steps. No more chasing or waiting. Save time, save money. Tickd. Switched. Done.

Custom-Built for Your Business
Our energy broker software was built with the end user in mind. We can customise the appearance of the platform, integrating it with your website seamlessly. Your customers won't know they've left.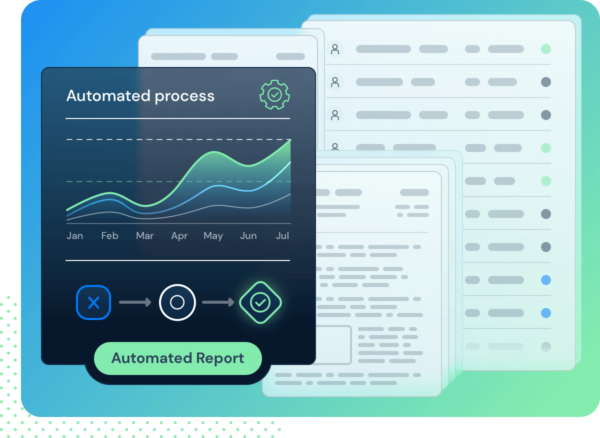 The Digital Age Is Here.
The process of switching business energy has been the same for too long. Tickd is dragging the energy market into the age of digitalization. Join the future or become the past.



BROKERS
Energy Broker FAQs
Want to know more about how we work with brokers? Check out our FAQs. Click on each question below to find the answers that you need. Discover more, from live pricing to energy supplier aggregation possibilities, and beyond.
Are you able to act as an energy aggregator?

Yes, we can aggregate contracts to our elite panel of hand-picked suppliers!
Are you planning on bringing on more suppliers?

We only bring on suppliers who can offer us technical API integrations. This means we have a fully integrated process so we can keep everything as efficient as possible.
Can you display supplier prices other than those that you have direct relationships with?

Of course! We can pull through all supplier pricebooks on the market for our brokers. If the supplier isn't on our panel, you'll need to process the contract yourself. Simply go to your admin portal to configure your commission.
How quickly can a customer sign up?

Customers can get a quote in 90 secs. They can then sign their contract and switch in a couple of minutes. It's as easy as Tickd. Switched. Done.
Why is your commission different to others?

Tickd is transparent. We don't shy away from telling you what we make and how we make it. The energy market for small business customers is migrating toward the domestic market. An acquisition fee, rather than a p/kWh uplift.
Why do you collect company details before providing the quote?

We never want to display a quote a customer doesn't qualify for. Our integration with Experian pulls through information about customers and filters out quotes from energy suppliers that don't want to take on the business.
Can your platform be white labelled?

Yes, this is our bread and butter. We can set you up with a white label platform so that you and your customer can benefit from the efficient onboarding.
How can your energy platform give me access to more suppliers?

Tickd have relationships with a number of energy suppliers that we act as an aggregator for. We simply need to confirm that you are registered with the Ombudsman by confirming your ADR number so that we can add you as one of our sub brokers.
What reporting can your energy broker software provide?

Our online portal provides you with all the reporting that you need. You can access all information about journeys that don't complete the contract as well as journeys that are complete. You can then monitor the status of each individual switch using our status tracker. We can also integrate with your Google Ananlytics and Google Tag Manager accounts.
What pricing options does the platform offer?

Our pricing is flexible so that there are packages that work for brokers of all shapes and sizes. We work with sole trader to large private equity backed energy brokers.
Can your platform send comparative offers to my customers?

Yes, our system is linked to live pricing so our partners are able to send price comparisons to their customers. This can be done on a bulk basis using our bulk upload as well as one by one quotes.
Pricing
Embrace the digital age. Choose your perfect package.
Domestic
Offer a Complete Digitalised Domestic Journey.
For our 'Switch Elite' package customers, Tickd will give GIVE you the domestic switching journey for FREE. Give your customers more.

All Purpose Energy Broker Platform
Tickd was originally built with small business in mind. Our platform is fully scalable and empowers you to cover all energy needs, saving your customers valuable time.

50/50 Commission
When your customers use Tickd to switch energy at a domestic property, you will earn half of the £30 per fuel commission. (£30). We're equal partners in a future-thinking energy switching mission.

Future-Proof Your Business
With Tickd's domestic journey, never say no or turn away business again. Families and friends, every small business customer has domestic energy needs and often always ask what to do with their energy. Gain more revenue, offer a smarter switching choice.
Join Hundreds of Brokers Already Using Tickd.
Start Without Any Ongoing Costs.
Arrange a Demo